Why not do something different for your hen party? Surprise your friends with three action packed hours, learning to play polo at Yorkshire's largest polo club.
Sit back and enjoy a delicious champagne breakfast whilst our Polo Manager, Tony Wesche, provides an introduction to the sport in the comfort of our Club marquee. You will then learn to hit the ball on the ground with short hand mallets, progressing to full size mallets on 'Woody' the wooden horse.
The final stage is to mount the ponies and learn to ride, polo style, before being divided into teams to compete for a winning rosette. To complete this exciting action packed morning you could enjoy an optional lunch on the polo pitch, whilst a masseuse can treat your tired shoulders and hands to a relaxing massage.
For the extra twist of the day, challenge the stags to a polo match at the end of the morning. May the best team win!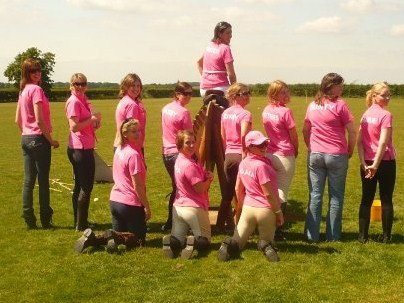 Schedule
0900 hrs
Arrival
Welcome to the White Rose Polo Club
Enjoy a delicious breakfast and meet your instructor for the day.
0930 hrs
Introduction to Polo
Introduction and explanation of polo and the rules
0930 hrs
Hand mallets
learn the basic four shots of Polo
1000 hrs
Wooden Horse
practise hitting the ball on Woody
1030 hrs
Practise on ponies
learn to ride 'Polo Style'
1100 hrs
Polo chukkas
have fun playing a mini match!
1200 hrs
Prize giving
1215 hrs
Lunch – Enjoy a delicious buffet lunch
1400 hrs
Watch members of the White Rose Polo Club in action as they play Club chukkas. Support or place bets on your very own team – supply a team from the club with special Stag polo shirts and we'll see if you can win the chukkas and a bottle of bubbly!